Join the debate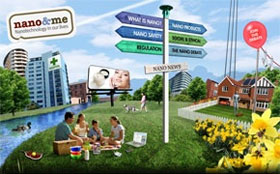 Our aim with Nano&me is to provide balanced, easy to understand information about nanotechnology and be the hub of debate for everyone to discuss the important issues which arise from its use. Visit the site and let us know what you think…. www.nanoandme.org
If you would like to link to the site or discuss partnering with us to use the site as part of your own public involvement projects contact Hilary Sutcliffe on [email protected]
We apologise that some of the links on the site may not work. The UK government gave us a grant for this pilot site. We are currently fundraising to bring the site up to date and create the hub for debate that we think is so important.
Please contact [email protected] if you can help us!
About us
About Us Our Vision Our Approach Our People Governance Funding
---
Our vision
---
New technologies which work for us all:
The power of new technologies, when targeted effectively and used appropriately, can help solve some of the world's most intractable problems and provide real benefits for people, planet and prosperity.
Which are produced responsibility…
So that all those involved in the development and use of these technologies consider the social, ethical and environmental issues alongside the economic and the technical. We don't want to create more problems than we solve.
…and where we all play our part:
These life changing technologies are not the domain of the few, stakeholders, including the general public should have a real say in the way they are developed and used.
---